---
ECO SORBET Raspberry – Micellar Cleansing Foam – moisturizing and soothing
ECO SORBET Raspberry – Micellar Cleansing Foam – moisturizing and soothing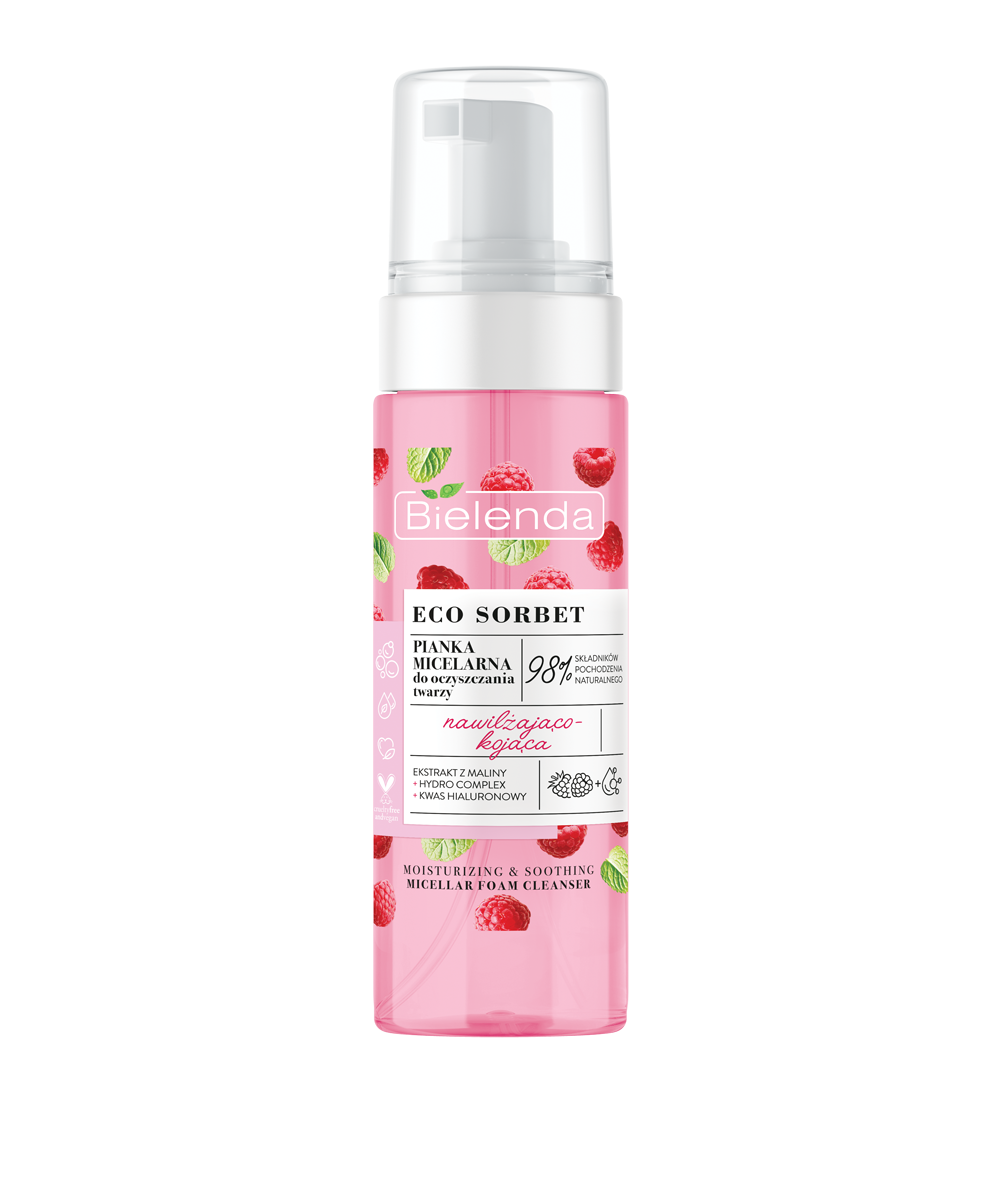 Product description
Vegan micellar foam for skin care that requires effective hydration and relief, also for sensitive skin.
Micellar foam contains 98% ingredients of natural origin (according to ISO 16128), the packaging after appropriate segregation is suitable for recycling, the product is PETA-certified – cruelty-free #crueltyfree.
Capacity: 150 ml

Working
The foam gently washes and thoroughly cleanses the skin of the face. It removes makeup residues and the remaining epidermis impurities. At the same time, it moisturizes and soothes the skin, preparing it for further care ♥.
We put effective active ingredients ♥ in the micellar foam:
Raspberry extract supports the epidermal hydrolipid barrier, intensely moisturizes and nourishes the skin.
Hydro Complex mix of betaine and trehalose, this duo shows great moisturizing and soothing properties.
Hyaluronic acid deeply moisturizes and revitalizes the epidermis.

Effect
The skin is thoroughly cleansed, moisturized and soothed. The epidermis is smooth and soft to the touch.

Usage
Spread the foam on damp skin of the face, avoiding the eye and mouth area, massage with circular movements, then rinse thoroughly with lukewarm water.
NO FEARS ♥ The liquid is not dispensed completely, so as not to flood the foaming mechanism - the amount of liquid in the bottle is exactly 150 ml. All this so that your foam is properly foamed and fluffy ♥.

Composition
Aqua (Water), Propanediol, Glycerin, Coco Glucoside, Sodium Cocoamphoacetate, Trehalose, Betain, Disodium Cocoyl Glutamate, Sodium Hyaluronate, Rubus Idaeus (Raspberry) Fruit Extract, Polyglyceryl-6 Caprylate, Sodium Cocoyl Alaninate, Proline, Sodium Chloride, Sodium Glycolate, Lactic Acid, Citric Acid, Potassium Sorbate, Sodium Benzoate, Benzyl Alcohol, Parfum (Fragrance).
More products from the series: